March is Women's History Month! As part of To The Contrary's celebration of Women's History Month, we introduce you to the first female pharaoh of Egypt, Hatshepsut. See how she left her mark on the country thousands of years after her reign. Stay tuned for more during March!

Watch Video

A new report on Women In The Media shows women remain underrepresented. Are Sochi Olympic courses too dangerous for women? Mountaintop Removal in West Virginia threatens residents' lives. PANEL: Del. Eleanor Holmes Norton, Mercedes Viana Schlapp, Kim Gandy, Rina Shah, Janet Keating

Watch Video

Are Davis's newest declarations on abortion consistent? Women-owned businesses may outlast male-owned companies in certain areas. Jane Pauley on reinventing yourself. PANEL: Sam Bennett, Jennifer Marshall, Danielle Moodie-Mills, Rina Shah

Watch Video
Full Episode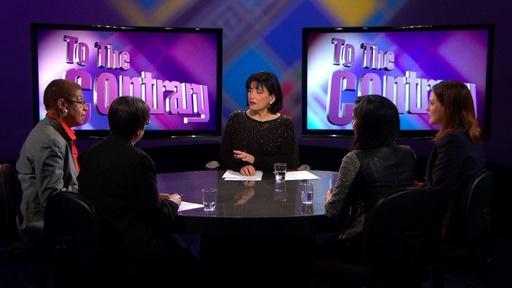 Women In Media: The 2014 annual Women In The Media report shows that women remain underrepresented; Sochi Olympic Courses: ...
Webisode
First Lady Michelle Obama presented the 2014 International Women of Courage Award to women who were exceptional leaders in ...
Blog
March 03, 2014
March is Women's History Month! Stick with To The Contrary as we look at important moments in history that shape our present. Below, you'll find segments about inspiring women and important issues. Keep watching To The Contrary!
Read More »
February 21, 2014
This week on To The Contrary, our panelists discuss the 2014 Women In The Media Report, whether Sochi's Olympic courses are too extreme for women, and Mountain Top Removal that threatens lives in West Virginia.
PANEL: Del. Eleanor Holmes Norton (D-DC), Republican Strategist Rina Shah; CEO of National Network to End Domestic Violence Kim Gandy; Former Bush White House Aide Mercy Viana Schlapp; Ohio Valley Environmental Coalition's Janet Keating
Click read more to see what they had to say!
Read More »
Support for pbs.org provided by:
Quiz
What did you learn about media equality, Sochi Olympics and WVa pollution?
Answer questions correctly and we'll send you To The Contrary memorabilia!
Take the Latest Quiz »
The Host
To The Contrary Host: Bonnie Erbé
Bonnie Erbé is a nonpartisan, award-winning American journalist and television host based in the Washington, D.C. area who has ...
More »
Tweets by @ToTheContrary